Filipino Wedding Limousine in NYC
If  You plan to get married in New York you definitely need to consider our company as the premier limousine service for Filipino Wedding Style Limousine Service in NYC. We have many years of experience serving Filipino communities and provided limousine service for many Filipino style weddings. Our limousine service is very affordable and you will get VIP treatment for your Filipino wedding in New York with most luxurious fleet of limousines that are currently on the market. We can customize Your rental according to your wishes and you can travel around NYC like a celebrity  and ride around with extravagant style.
Our Filipino Wedding limousine service is great for wedding transportation of bridal party as well as the bride and the groom in a lead car such as Rolls Royce or Bentley limousine. We also provide Filipino wedding limousine service for guest in one of our exotic limousines or coach bus. Booking process is very easy and straightforward and our Filipino Wedding limousine booking agents are ready to answer all your questions by phone, email, Facebook, Twitter or you can also come to our office and discuss all the details in person. We pride ourselves in being very responsive to customer needs and provide top notch Filipino Wedding limousine service and we have many returning clients that recommend our Filipino wedding limo service to their family, friends and colleagues.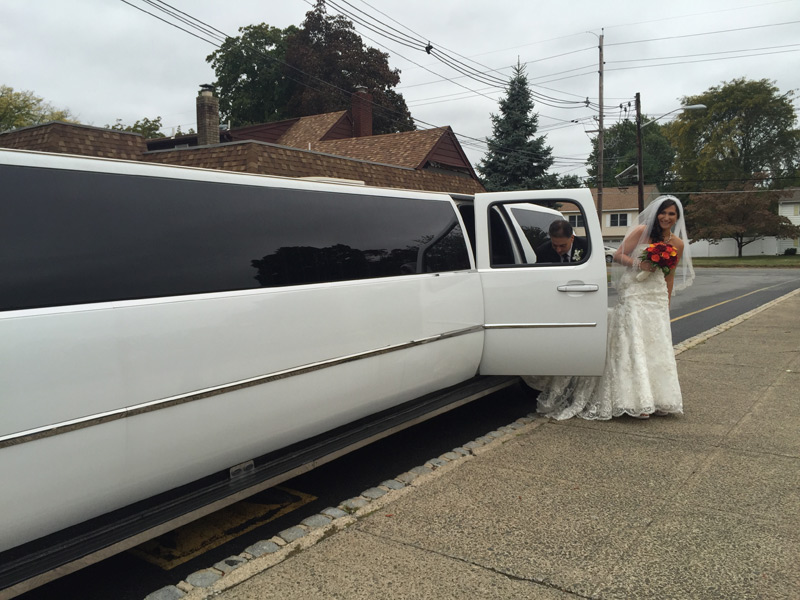 We include here some of the Filipino Wedding traditions and celebrations:
Traditionally the groom's family pays for the wedding and the grandparents act as the primary witnesses or sponsors. The bride's gown is often custom made and both the bride and groom wear white. It is bad luck for the bride to try on her dress before the wedding day and to wear pearl jewelry, which is considered a bad omen. The groom wears a sheer, long-sleeve button-up shirt (barong tagalog) that is worn un-tucked over black pants with a white t-shirt underneath.
As in Spanish weddings, the groom presents his bride with 13 gold pieces as a pledge of his dedication to his wife and the welfare of his children. These are carried in by a coin bearer who walks with the ring bearer. A white cord is draped around the couple's shoulders as a bond of infinite marriage and veils of white tulle are draped on the bride's head and groom's shoulders to symbolize two people clothed as one.
Another tradition that symbolizes the unity of the couple is the lighting of a unity candle by two separate candles held by the bride and groom to represent the joining of the two families and invoke the light of Christ. The bouquet is not tossed and rather offered to a favorite saint, the virgin, or on the grave of a loved one.
Knives and other sharp objects are not considered good gifts because they will lead to a broken marriage. Raindrops are lucky because they bring prosperity and happiness, and when the rice is tossed at the newlyweds it represents the rain. The groom should always arrive before the bride; otherwise it will be bad luck.
Our Filipino Wedding Limousine service is also providing wedding limousine rental for other cultural weddings:
African Wedding Limousine in NYC Armenian Wedding Limousine in NYC Chinese Wedding Limousine in NYC Czech Republican Wedding Limousine in NYC Dutch Wedding Limousine in NYC Filipino Wedding Limousine in NYC French Wedding Limousine in NYC German Wedding Limousine in NYC Greek Wedding Limousine in NYC Indian Wedding Limousine in NYC Irish Wedding Limousine in NYC Italian Wedding Limousine in NYC Japanese Wedding Limousine in NYC Jewish Wedding Limousine in NYC Korean Wedding Limousine in NYC Polish Wedding Limousine in NYC Russian Wedding Limousine in NYC Scottish Wedding Limousine in NYC Spanish and Latin-American Wedding Limousine in NYC Swedish-Wedding-Limousine-NYC Vietnamese Wedding Limousine in NYC