Polish Wedding Limousine in NYC
If  You plan to get married in New York you definitely need to consider our company as the premier limousine service for Polish Wedding Style Limousine Service in NYC. We have many years of experience serving Polish communities and provided limousine service for many Polish style weddings. Our limousine service is very affordable and you will get VIP treatment for your Polish wedding in New York with most luxurious fleet of limousines that are currently on the market. We can customize Your rental according to your wishes and you can travel around NYC like a celebrity  and ride around with extravagant style.
Our Polish Wedding limousine service is great for wedding transportation of bridal party as well as the bride and the groom in a lead car such as Rolls Royce or Bentley limousine. We also provide Polish wedding limousine service for guest in one of our exotic limousines or coach bus. Booking process is very easy and straightforward and our Polish Wedding limousine booking agents are ready to answer all your questions by phone, email, Facebook, Twitter or you can also come to our office and discuss all the details in person. We pride ourselves in being very responsive to customer needs and provide top notch Polish Wedding limousine service and we have many returning clients that recommend our Polish wedding limo service to their family, friends and colleagues.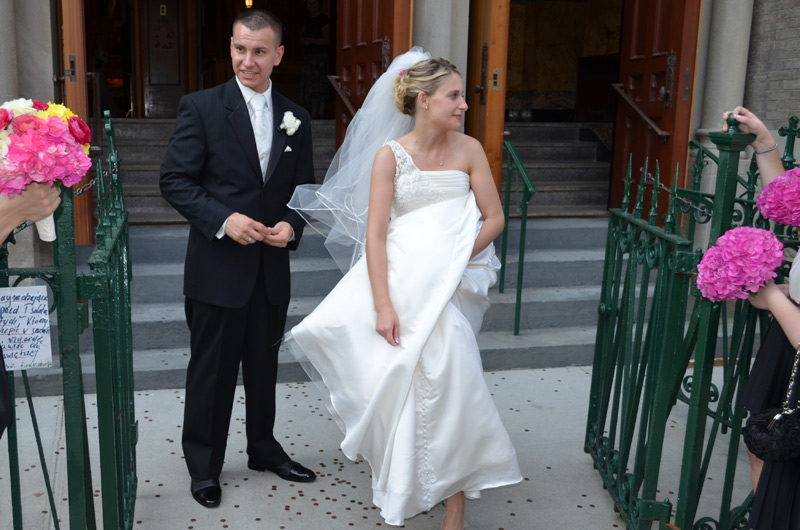 We include here some of the Polish Wedding traditions and celebrations:
Whether through food, dress, decor or music, there are many ways to salute Polish heritage on wedding day. Polish brides usually wore a lush wreath of fresh flowers and rosemary in their hair. Horsedrawn carriages were traditional at Polish weddings -- the bride and groom used to ride to and from the ceremony this way, with the wedding guests following after them to the reception by foot. In Polish tradition, guests rained oats and barley down on the couple rather than rice or birdseed as they exited the ceremony. Traditional Polish celebratory fare such as roasted duck and veal, pickled herring, dumplings, smoked sausages, potato leek soup, almond-filled pastries or dried fruits were served at the reception.
The Polish also hold a blessing ceremony before the actual wedding ceremony, for just the bride, groom and their parents, during which the parents give the couple a ceremonial gift of bread and salt, meant to represent the "prosperity and bitterness" that all couples encounter throughout their lives. One of the most popular Polish traditions at wedding celebrations is called the "unveiling", which takes place during the reception: Guests link arms and form a circle around the bride, and her mother takes the bride's veil off (symbolizing her coming into womanhood) and places it on the head of her honor attendant, who then waltzes with the best man. The maid of honor then passes the veil to the next bridesmaid in the circle, who dances with the next groomsman in line, etc. The significance of the passing of the veil is that the bride is offering her maids good fortune for marrying themselves one day.
Our Polish Wedding Limousine service is also providing wedding limousine rental for other cultural weddings:
African Wedding Limousine in NYC Armenian Wedding Limousine in NYC Chinese Wedding Limousine in NYC Czech Republican Wedding Limousine in NYC Dutch Wedding Limousine in NYC Filipino Wedding Limousine in NYC French Wedding Limousine in NYC German Wedding Limousine in NYC Greek Wedding Limousine in NYC Indian Wedding Limousine in NYC Irish Wedding Limousine in NYC Italian Wedding Limousine in NYC Japanese Wedding Limousine in NYC Jewish Wedding Limousine in NYC Korean Wedding Limousine in NYC Polish Wedding Limousine in NYC Russian Wedding Limousine in NYC Scottish Wedding Limousine in NYC Spanish and Latin-American Wedding Limousine in NYC Swedish-Wedding-Limousine-NYC Vietnamese Wedding Limousine in NYC