Chinese Wedding Limousine in NYC
If  You plan to get married in New York you definitely need to consider our company as the premier limousine service for Chinese Wedding Style Limousine Service in NYC. We have many years of experience serving Chinese communities and provided limousine service for many Chinese style weddings. Our limousine service is very affordable and you will get VIP treatment for your Chinese wedding in New York with most luxurious fleet of limousines that are currently on the market. We can customize Your rental according to your wishes and you can travel around NYC like a celebrity  and ride around with extravagant style.
Our Chinese Wedding limousine service is great for wedding transportation of bridal party as well as the bride and the groom in a lead car such as Rolls Royce or Bentley limousine. We also provide Chinese wedding limousine service for guest in one of our exotic limousines or coach bus. Booking process is very easy and straightforward and our Chinese Wedding limousine booking agents are ready to answer all your questions by phone, email, Facebook, Twitter or you can also come to our office and discuss all the details in person. We pride ourselves in being very responsive to customer needs and provide top notch Chinese Wedding limousine service and we have many returning clients that recommend our Chinese wedding limo service to their family, friends and colleagues.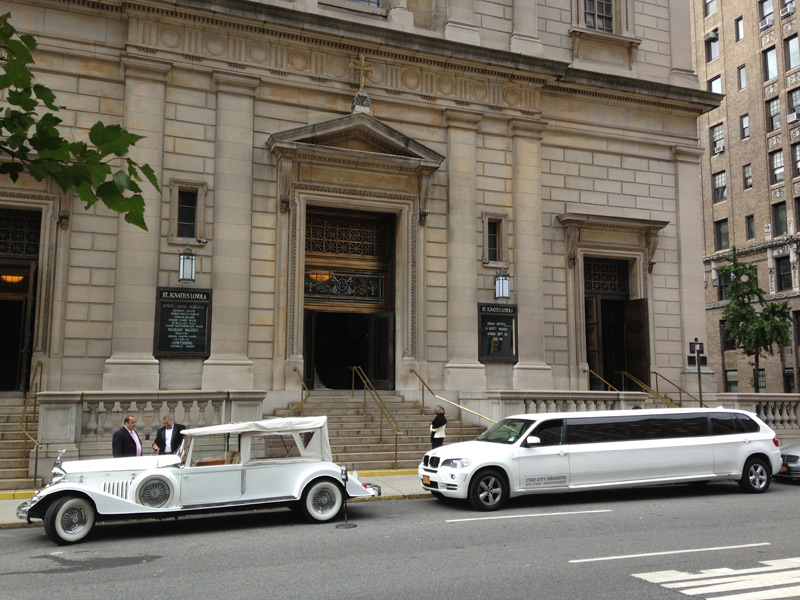 We include here some of the Chinese Wedding traditions and celebrations:
The wedding date is picked carefully according to astrological signs and birthdates, and the ceremony begins on the half hour to cement the couple's good fortune. The night before the wedding day, the bride is bathed in citrus-infused water to cleanse her of evil influences.
Many modern brides change into three different outfits throughout the night. The three dresses include a traditional white dress, a traditional Chinese bridal dress for the tea ceremony and a cocktail dress to send off the guests. The bridal headpiece is a phoenix crown made of kingfisher feathers and pearls with a red veil to shield her from the heaves until she reaches her groom's home. The groom typically wears a blue dragon robe with a black silk coat and a black headpiece with red tassels.
On the day of the wedding, the groom is typically placed through a series of tests or stunts by bridesmaids to prove his worth before he is allowed to pick up his future bride. Traditionally, he would carry out the stunts until he would present them with red envelopes of money. When the bride arrives at the groom's home, she is greeted by firecrackers and gongs and she will have to jump over an iron basin lit with charcoal to represent prosperity and keep evil spirits away.
If the ceremony is held outdoors, consider presenting your guests with paper parasols or silk painted fans. During a traditional tea ceremony, the bride serves tea to her parents and her new in-laws as a symbol of respect. To update the tradition, the groom can serve tea with his new bride. The color red represents celebration and prosperity, and the Chinese character "xi" or double happiness bestows the wish of a happy life for the couple. Incorporate these characters by having double happines favor bags or double happiness chopsticks for wedding favors.
The bride and groom are required by etiquette to make the rounds and toast each table individually to the loud cheers of the group visited. Sometimes members of the wedding party can be called upon to drink in place of the bride and groom.
Chinese weddings are filled with symbolism and the wedding cake is no exception. It represents a ladder that the couple will climb to success and so it has many layers and is cut from bottom to top. A traditional reception will feature 9-10 courses and will usually include lobster and chicken because they symbolize the dragon and the phoenix respectively.
Our Chinese Wedding Limousine service is also providing wedding limousine rental for other cultural weddings:
African Wedding Limousine in NYC Armenian Wedding Limousine in NYC Chinese Wedding Limousine in NYC Czech Republican Wedding Limousine in NYC Dutch Wedding Limousine in NYC Filipino Wedding Limousine in NYC French Wedding Limousine in NYC German Wedding Limousine in NYC Greek Wedding Limousine in NYC Indian Wedding Limousine in NYC Irish Wedding Limousine in NYC Italian Wedding Limousine in NYC Japanese Wedding Limousine in NYC Jewish Wedding Limousine in NYC Korean Wedding Limousine in NYC Polish Wedding Limousine in NYC Russian Wedding Limousine in NYC Scottish Wedding Limousine in NYC Spanish and Latin-American Wedding Limousine in NYC Swedish-Wedding-Limousine-NYC Vietnamese Wedding Limousine in NYC